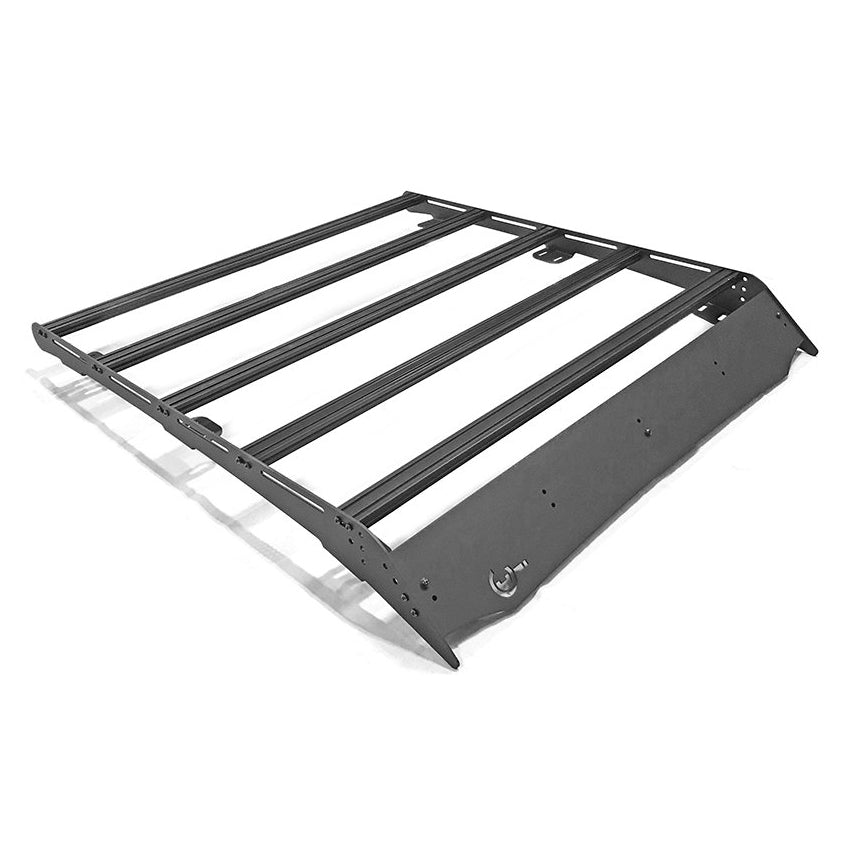 2005-2023 Toyota Tacoma Prinsu Access Rack
Regular price
Sale price
$660.00
/
---
CURRENT ESTIMATED LEAD TIME IS 1 WEEK
The Tacoma Accessrac is a modular, adjustable, and completely bolt together roof rack for 2005-2020 Toyota Tacoma in the access cab configuration.

 The rack consists of 2 laser cut side rails constructed of 3/16″ 5052 aluminum plate. These rails have 3 mounting platforms each that will allow you to bolt the rack into 12 rivet nut plus nuts that you will install. The 6 plus nuts on each side of the roof provide a secure mounting system for the rack. This rack will require you to drill 6 holes in each of the 2 channels on the rooftop. The crossbars are made from an aluminum extrusion that has a top facing T-slot channel. This offers numerous solutions for tie-down options, cargo security, and the addition of accessories such as tool mounts or lighting. All products will come in black.
All assembly hardware is provided. The rack also includes a 1/8″ 5052 aluminum plate wind deflector to help with aerodynamics and prevent wind noise.

 The rack is completely modular in that you choose how your rack is configured. Refer to the gallery for an example of standard configurations we have used based on different load sizes and weights. You can also choose the number of crossbars you assemble your rack with. The rack comes standard with 5 cross bars for cargo and 2 additional for mounting of a wind deflector, lightbar, or combination of the two.

The weight capacity of the racks varies based on the number of crossbars used and their configuration. We expect all consumers to use good judgment and common sense with the loads they plan to carry using these rack systems.
***THIS ROOF RACK REQUIRES DRILLING INTO THE FACTORY ROOF FOR INSTALLATION OF NUT CERTS.
***
***ON SOME MODELS, AND DEPENDING ON INSTALLATION, THE REAR MOUNTING HARDWARE MAY CONFLICT WITH THE AIRBAG MOUNTING BRACKET. WE RECOMMEND DROPPING THE HEADLINER IN THE REAR TO ENSURE THAT NO DAMAGE TO THE AIRBAGS OCCUR.***